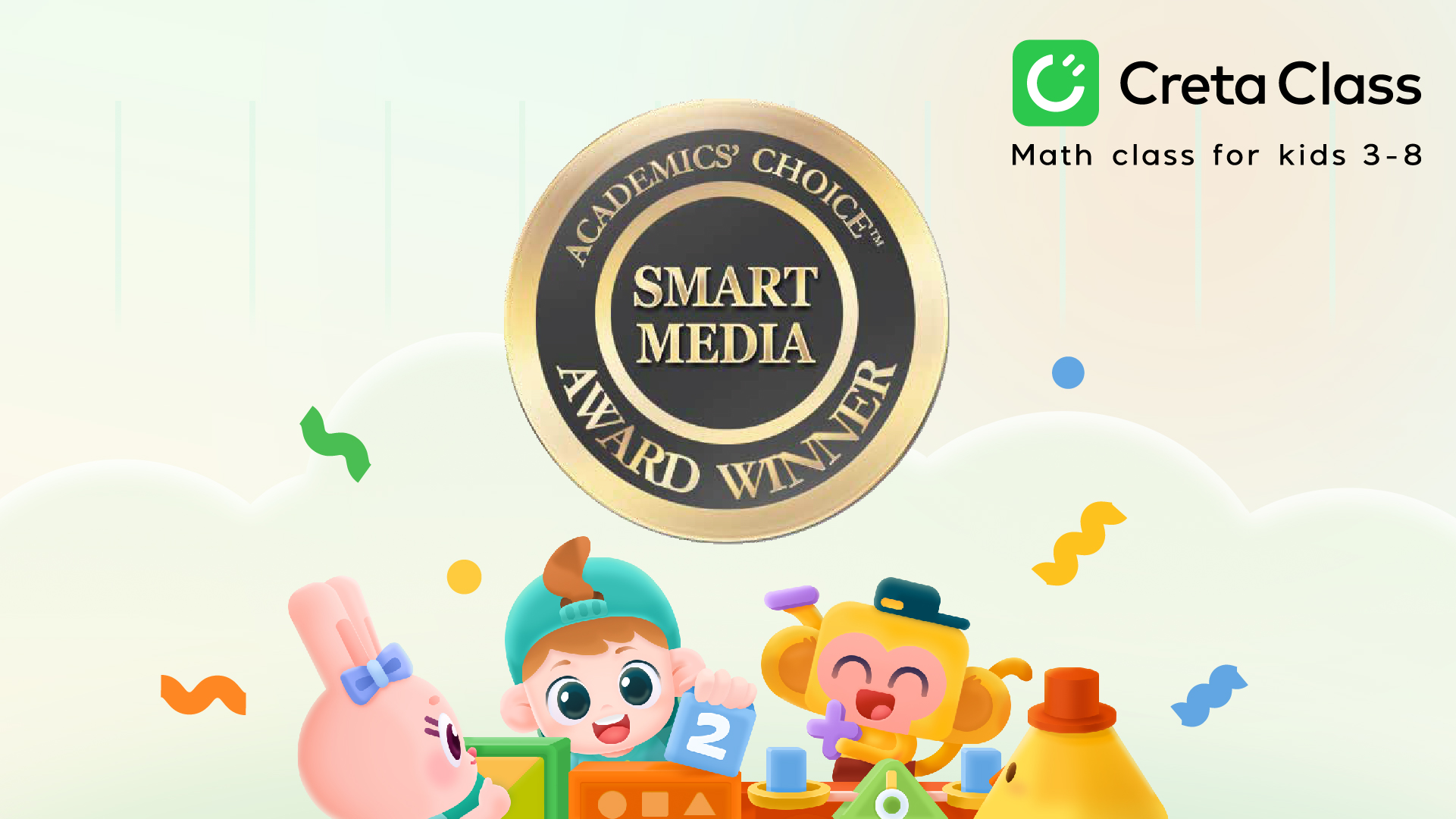 We are pleased to announce that Creta Class has been honored with a 2022 Academics' Choice Smart Media Award, a prestigious seal of educational quality reserved only for the best mind-building media.
The independent Academics' Choice Awards program and its seal of excellence are recognized worldwide by consumers and educational institutions as a mark of genuinely effective learning tools that stimulate the mind and provide potential for the student to fully develop higher-order thinking skills.
Review Highlights:
I love the systematic approach Creta Class employs. In today's culture, children are taking the cue from their parents and binging everything from tv to games. I LOVE that Creta Class is designed to be consumed in manageable daily chunks - no more, no less. This daily practice and consistency coupled with the inability to simply rush through the app to "win" or "beat the level" really allows for intentionality, targeted instruction, and the chance for actual learning and understanding to develop. The Monday through Friday approach, with three days of new content and 2 days to review and confirm learning is best practice and demonstrates that Creta Class genuinely cares about solid math comprehension. This is curriculum - not an app or your average run-of-the-mill math "game."
I love that Creta Class is truly built like a year-long curriculum, with daily lessons inside of month-long units inside of year-long stages. Phenomenal. Any overwhelmed or burnt-out-on-math parent can do this for their child. No one in the household will end up frustrated or in tears, and no one will have to watch hours of YouTube videos to understand what their child is doing in math. (Been there!) The lessons are easy enough for kids to be self-directed (yay for freeing up some time for parents!) but challenging and interesting enough to keep children fully engaged (and learning!)
Systematic approach and depth of content aside (which I can't help but get excited about coming from a teaching background), I was blown away by the seamless (and almost sneaky) integration of learning. Children who previously hated math will perhaps not even realize just how much math content they are learning and interacting with while using Creta Class. To a child, this will feel like watching an episode of their favorite cartoon while simultaneously playing their favorite game. Without realizing it, children using the Creta Class app will be exposed to, interact with, and learn math. The learning is hiding in plain sight - but is rich, varied, engaging, and FUN!
Creta Class could be the key to removing the fear and dread older children often associate with math. If they use this product at the beginning of their education, they may come to believe that math and math education are not something to be feared - but something to enjoy.
I liked the visuals of the app and how fun it makes learning. The characters and animation are absolutely adorable as well as of top-notch quality. I was very impressed with the quality of this app.
Creta Class introduces kids to basic foundational math skills such as number recognition (via several different methods, numerals, grids, etc.), shapes, addition, subtraction, and problem solving. Additionally, children using Creta Class will work to follow directions, increasing their listening and communication skills. Having to "prove" what was learned allows a child to process information and employ critical thinking.
For more information, please visit Creta Class and on social media at Facebook, YouTube, Instagram and Twitter.
About Creta Class
Creta Class is a math program developed by education experts and designed for kids ages from 3 to 8. The systematic program provides a 5-stage plan, with each stage consisting of 240 lessons, 1,200 animations, and 12,000+ interactive exercises in a progressive course setting. Creta Class's 15 minutes per day, 5 days per week approach makes learning math fun and easy with bite-sized daily sessions and AI-backed learning paths.
Media Contact:
Creta Class Communication Team
press@cretaclass.com